Mold on Food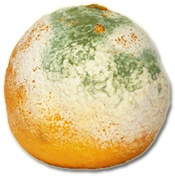 The purpose of mold in the environment is to break down dead and decaying materials, which is why it appears on the food that is going bad in your pantry or refrigerator. Mold growing on food will likely be white or green, fuzzy, and will not simply be on the surface. It has the ability to burrow beneath the surface and grow deep within the food. This is common on foods like bread, but foods with thicker outer layers like oranges, the mold will likely only be on the outer peel if you catch it early enough. Some of the common molds found on food include Alternaria, Aspergillus, Cladosporium, and Penicillium.
What Happens if You Eat Mold?
With the exception of some cheeses and hard salami, you do not ever want to eat mold. In some cases when you come across mold on your food, you can just chop it off and continue eating the rest, but sometimes the damage is done and the food is not salvageable. The reason why you want to avoid eating mold is because some molds can produce harmful mycotoxins that if ingested can cause a number of health problems. See our Mold Symptoms page for more information.
If you see that there is mold growth on food, do not smell the mold because inhalation is another way that the hazards of mold can get into your system and cause health problems. You also want to dispose of the moldy food by sealing it in a plastic bag so the spores are locked safely away. If any loose spores attach themselves to wet areas of your home, you may have a larger mold removal issue.
When it is Safe
Molds are used in the making of cheeses. Some of these cheese types include blue, gorgonzola, roquefort, brie, camembert, among others. The molds can be on the surface of these cheeses or growing internally. They are essential to the manufacturing of these cheeses and they are safe to eat. If you see a moldy spot on hard cheeses, cut the section with the mold on it and continue eating the rest. If you see visible mold on soft cheeses or shredded cheese, then you should throw those out.
If you notice mold on hard fruits or vegetables, it is likely that you will be able to cut off the affected area and continue eating the rest. This is because harder foods are more difficult for mold to break through, thus only affecting a small area. The same goes for dry-cured ham. It sometimes develops a thin layer of mold on the outside, which should be cut off before eating the ham.
When it is NOT Safe
There are some types of foods that cannot withstand the slightest mold penetration. This is true for things like most leftovers, casseroles, breads, soft fruits and vegetables, condiments, hot dogs, deli meats, bacon, etc. Foods like these are easy for mold to break through so it is likely that what you see is just the tip of the mold iceberg and it will be hard to determine how much of the food has actually been affected.
How Long Does it Take for Food to Go Bad?
Here is a chart depicting how long it takes for common foods to go bad in the pantry, refrigerator, and freezer. If you are interested in using this graphic, there is an embed code at the bottom of the page.
How Long Does it Take for Food to Go Bad?
| | | | |
| --- | --- | --- | --- |
| all food represented is fresh, raw, whole | Pantry | Refrigerator | Freezer |
| | 1-3 days | 3-4 weeks | 10-12 months |
| | 2-5 days(or until ripe) | 5-7 days(once ripe) | 2-3 months |
| | 4-7 days(or until ripe) | 3-5 days(once ripe) | 3-6 months |
| | 1 week | 2-3 weeks | 3-4 months |
| | | 3-5 days | 12-18 months |
| | | 3-4 days | 12-18 months |
| | | 3-5 days | 10-12 months |
| | 5-7 days | | 10-12 months |
| | 1-5 days(or until ripe) | 2-3 days(once ripe) | 2 months |
| | | 1-2 days | 3-4 months |
| | | 1-2 days | 9 months |
| | | 1-2 days | 2-3 months |
| | | 3-5 weeks | 1 Year |
| | | 3-5 days | 1-2 months |
| | 5-7 days | 1-2 weeks | 3 months |
| | 1-2 weeks | | |
| | 1-2 days | 7 days | 2-4 months |
| | | | 1-2 months |
| | | 1 day | 3-4 months |
| | 3 years +(unopened – depends on vintage) | 3-5 days(opened) | 4-6 months(opened) |
Sources: StillTasty.com, ShelfLifeAdvice.com